Game publisher 
Modern Wolf
 approached me to produce and direct an animated intro sequence for a trailer to promote their 'pinball platformer' game Skeleton Crew.
The brief was to create an entertaining sequence that conveyed the key elements of the game, while introducing the characters of the game's world.
I assembled a small team of freelancers to assist me part-time in completing the final trailer.
Full Credits:
Production/Script/Direction/Animation/Cleanup/Comp:
Jeremy Nixon
Animation:
Frans Schendelaar
Backgrounds:
 Nevena Nikolcheva
Script/Gameplay edit/Titles:
 Oliver Cross
Sound design:
Jordan Ivey
Story & Script
After playing an advance copy of the game, longtime collaborator Oliver Cross and I brainstormed several script concepts, which were pitched to the publisher.
The preferred concept was one where we subverted the setup of a 'carefully orchestrated battle plan', with our heroes unleashing pure cartoonish mayhem after getting into position.
We then worked the outline into a fully completed script that was approved by Modern Wolf and developer Cinder Cone.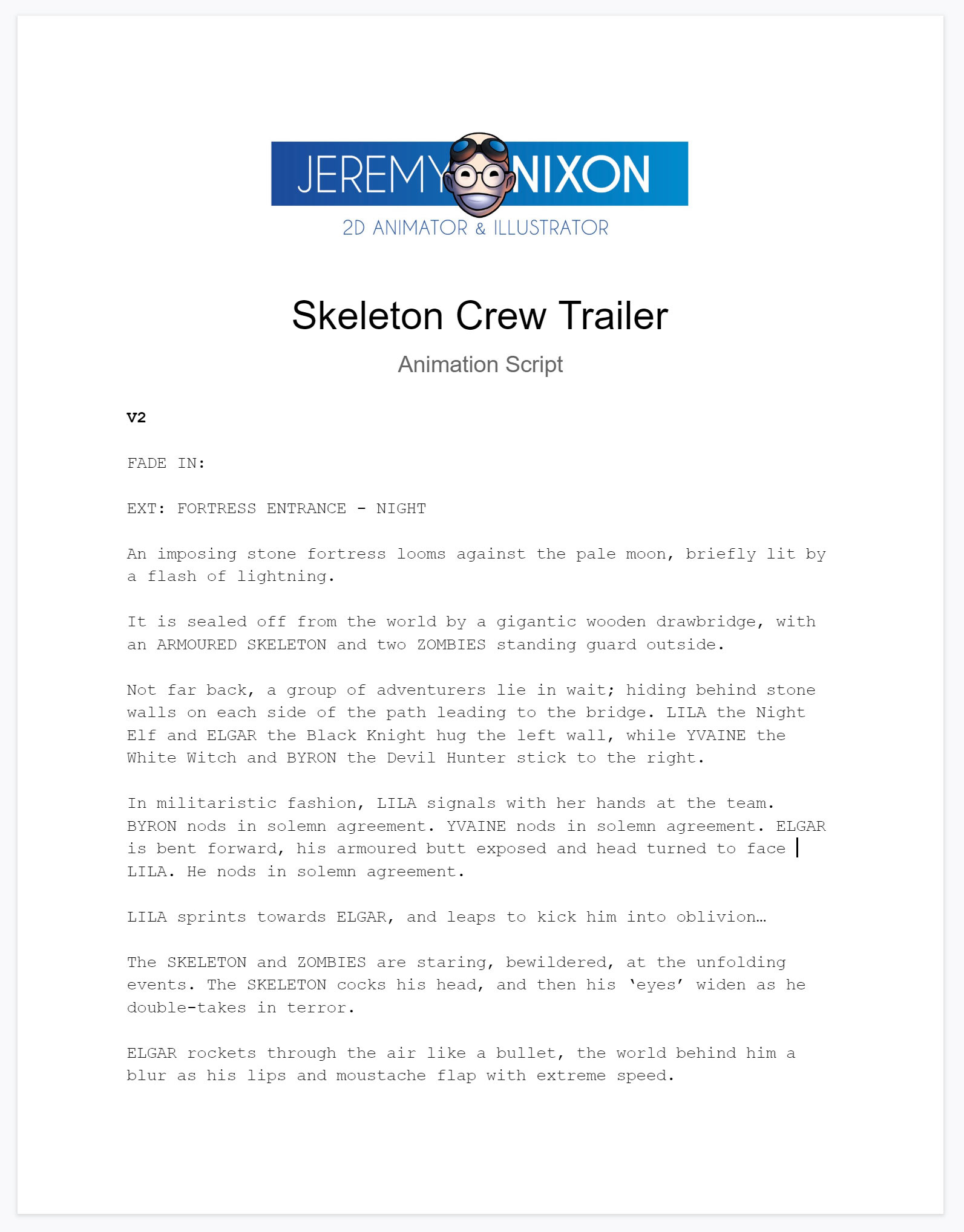 Animation Style & Character Sheets
In hand-drawn animation, it's important to design characters that are not overly detailed, so the animation process doesn't get bogged down in complexity.
The in-game Skeleton Crew characters already existed in a painterly cartoon style.
Frans Schendelaar
and I boiled six characters down to their defining features, finding the balance between simplicity and accuracy.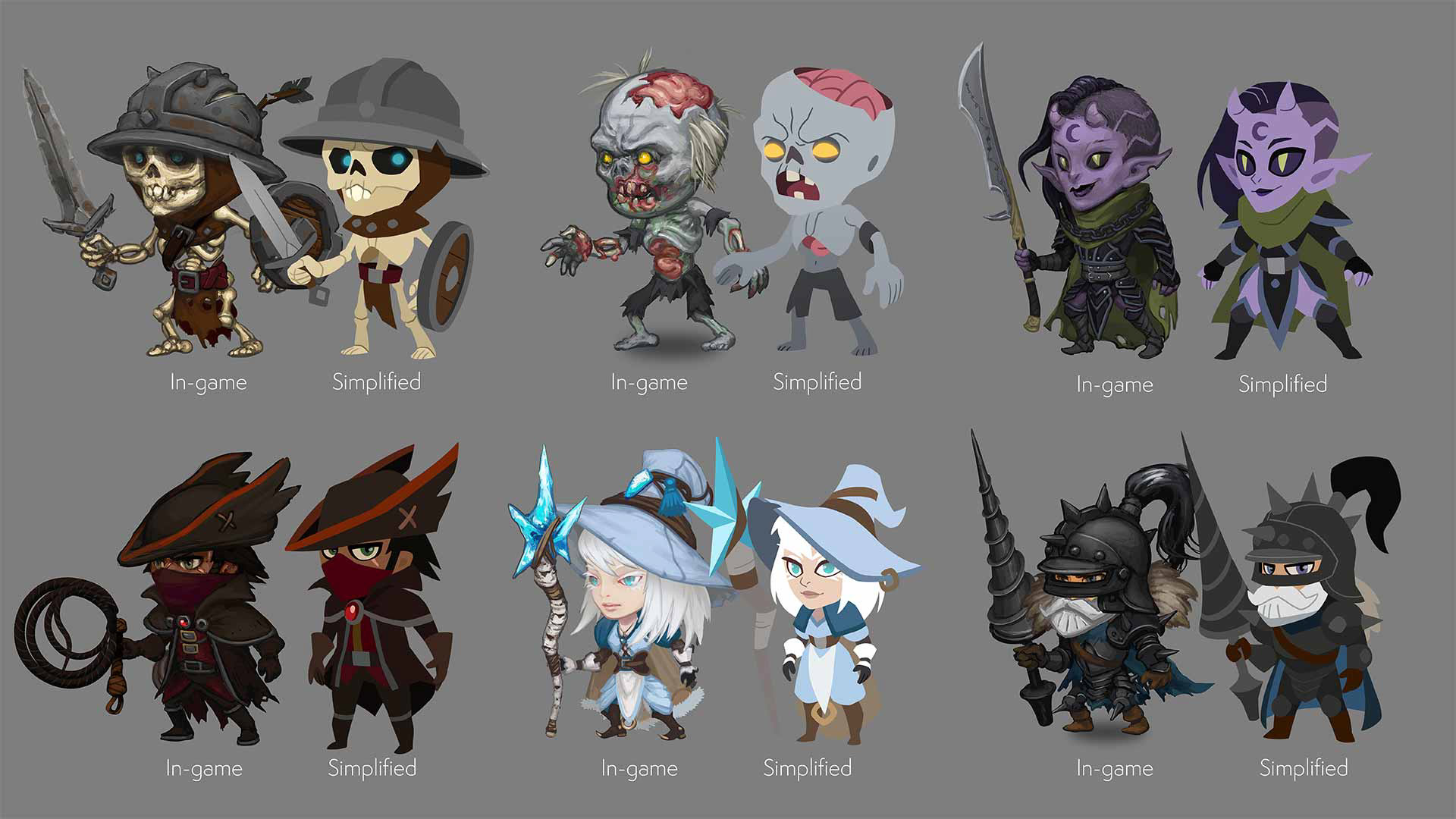 We created 'Character Sheets' for each, detailing them from all angles as a guide to keep them consistent once animation began.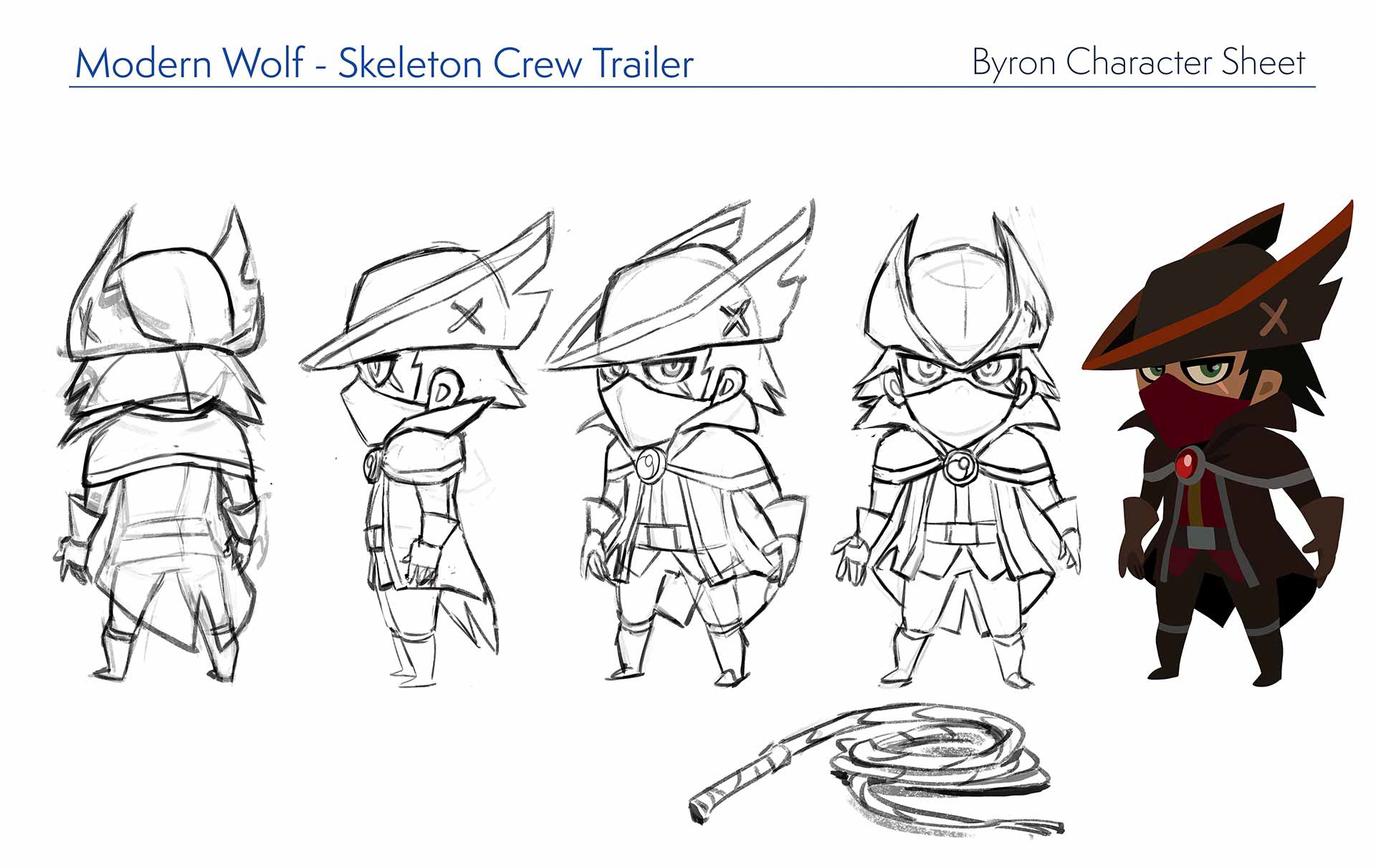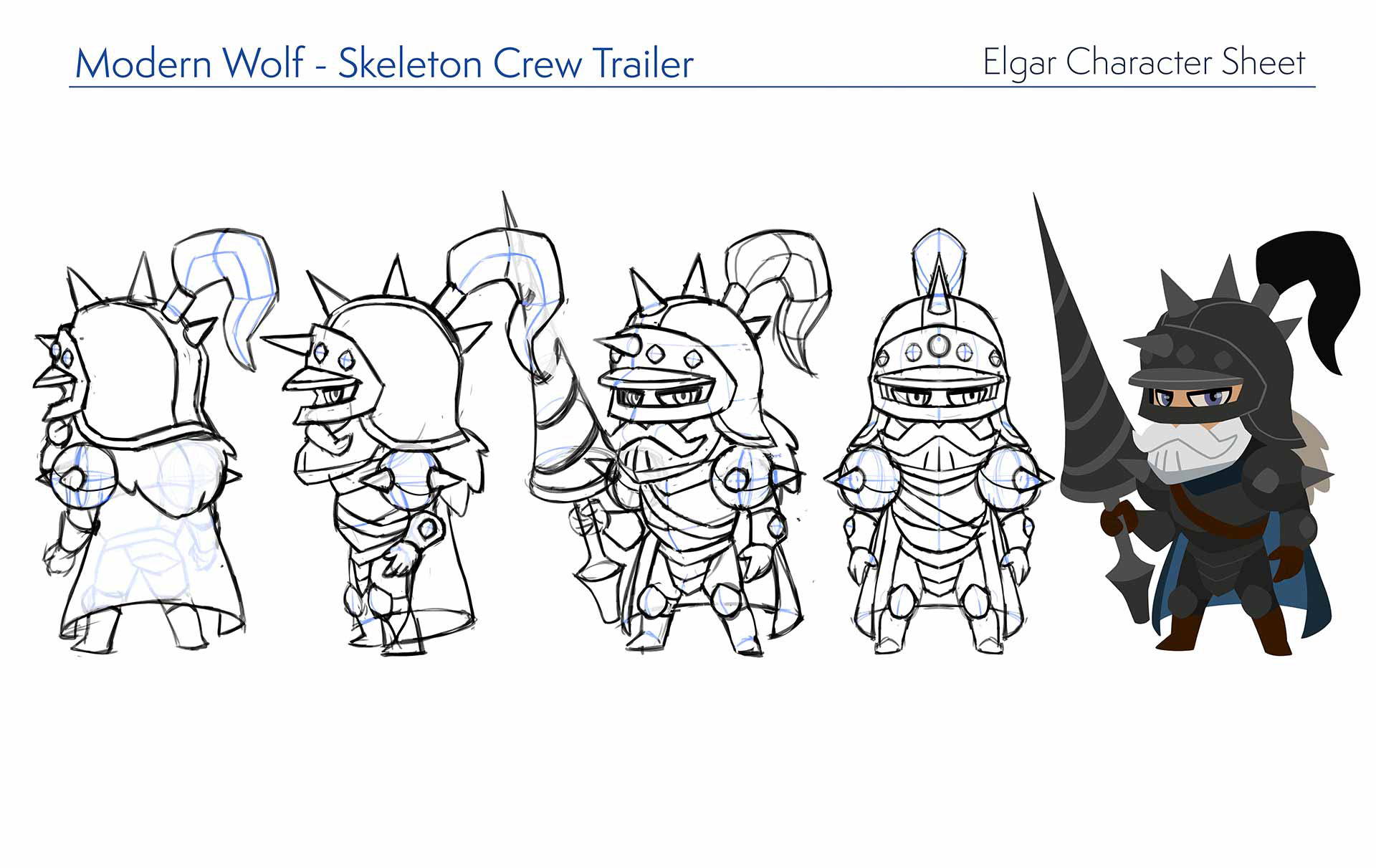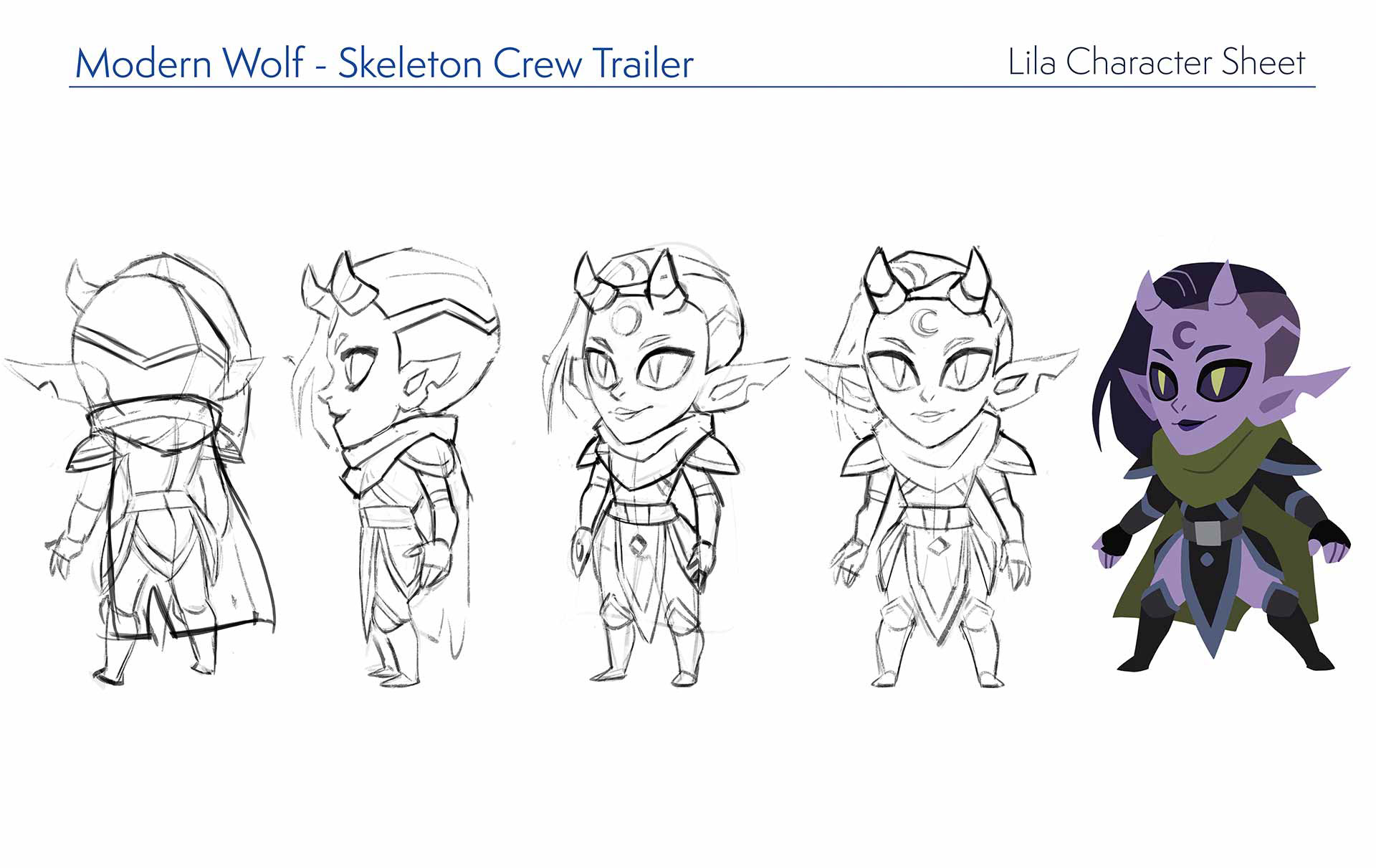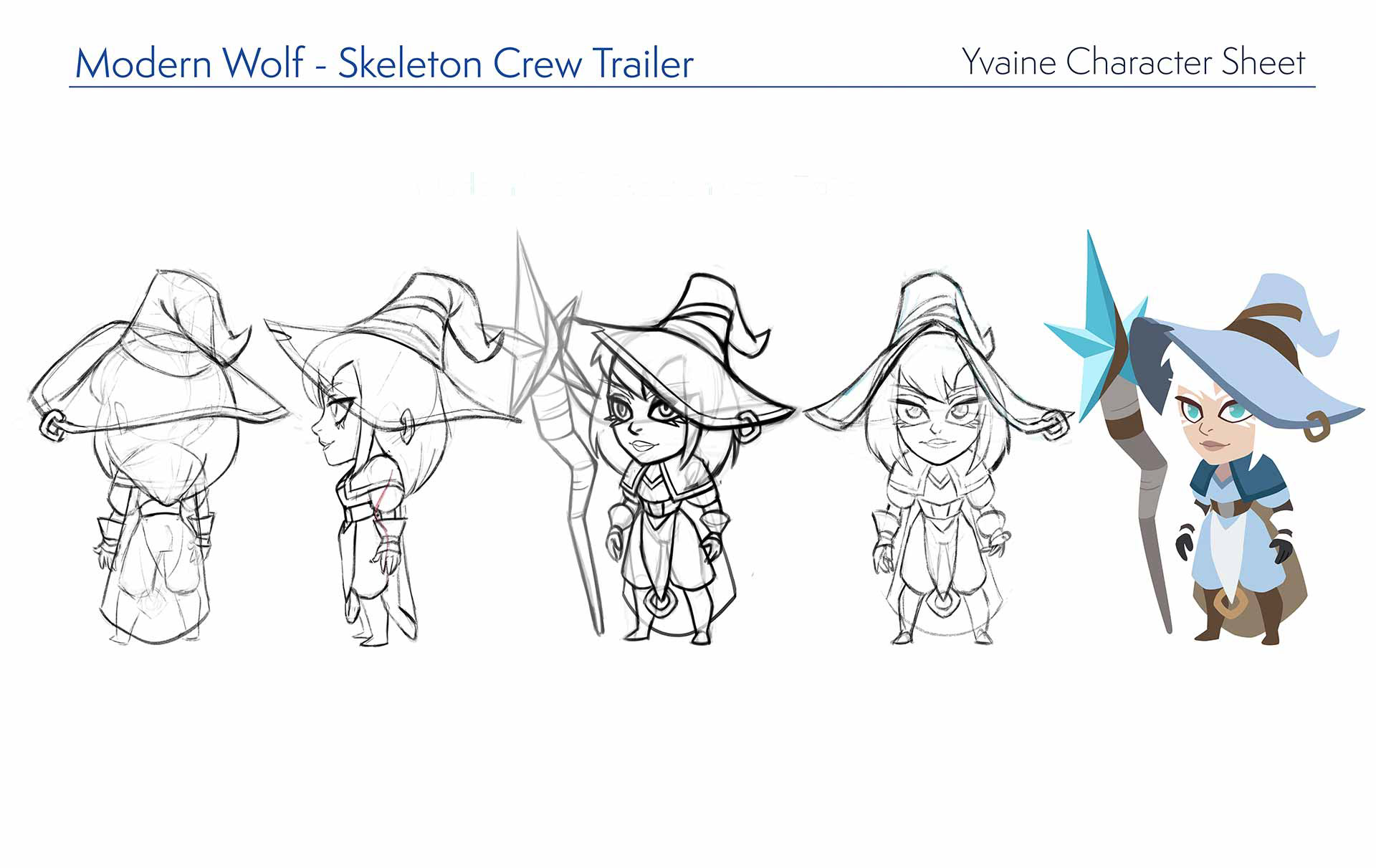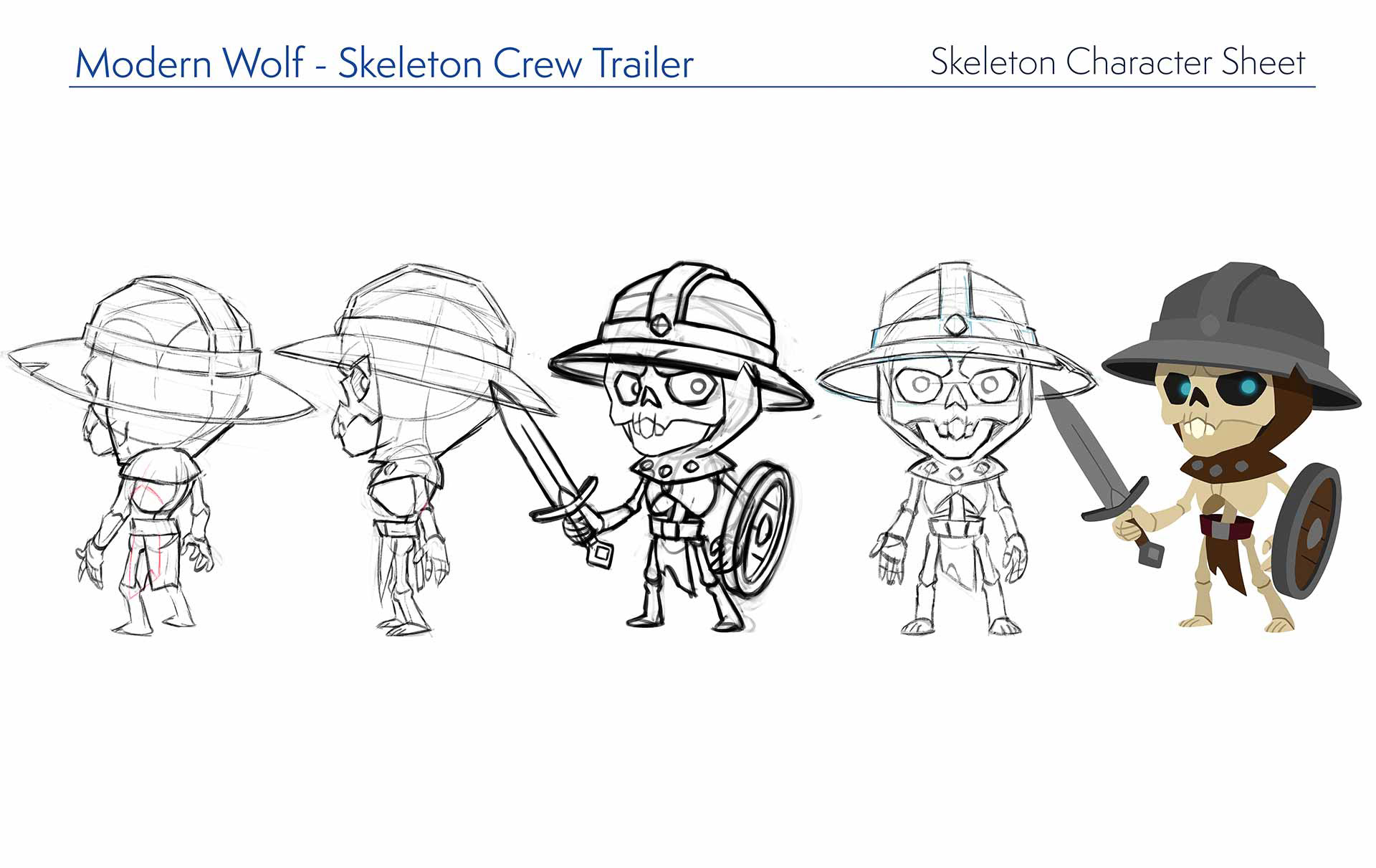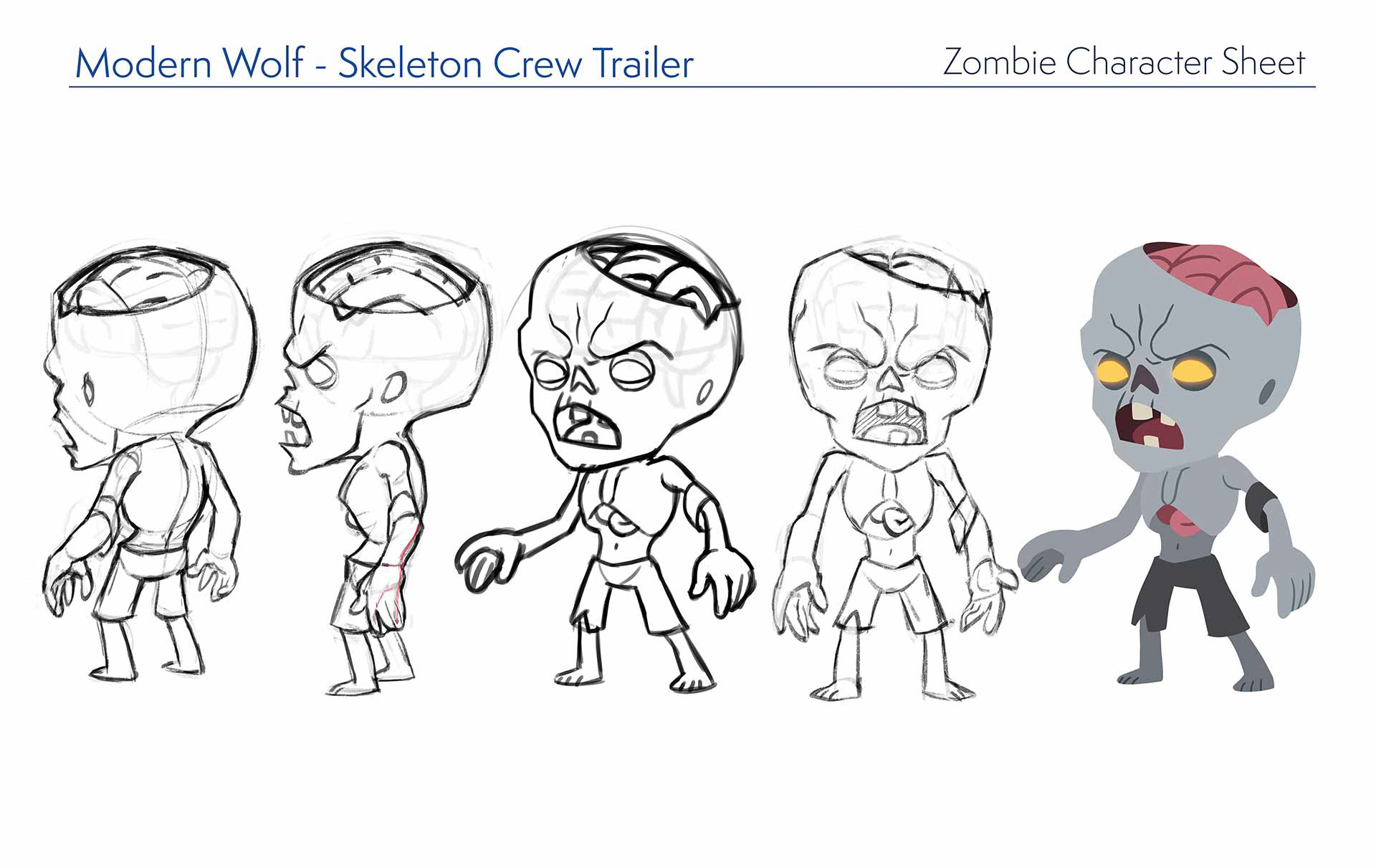 I decided on a 'lineless' approach to the finished characters. The absence of hard outlines meant that elements of the characters needed to be distinguished with subtle colour changes. This required complex palettes of upwards of 30 shades of colour.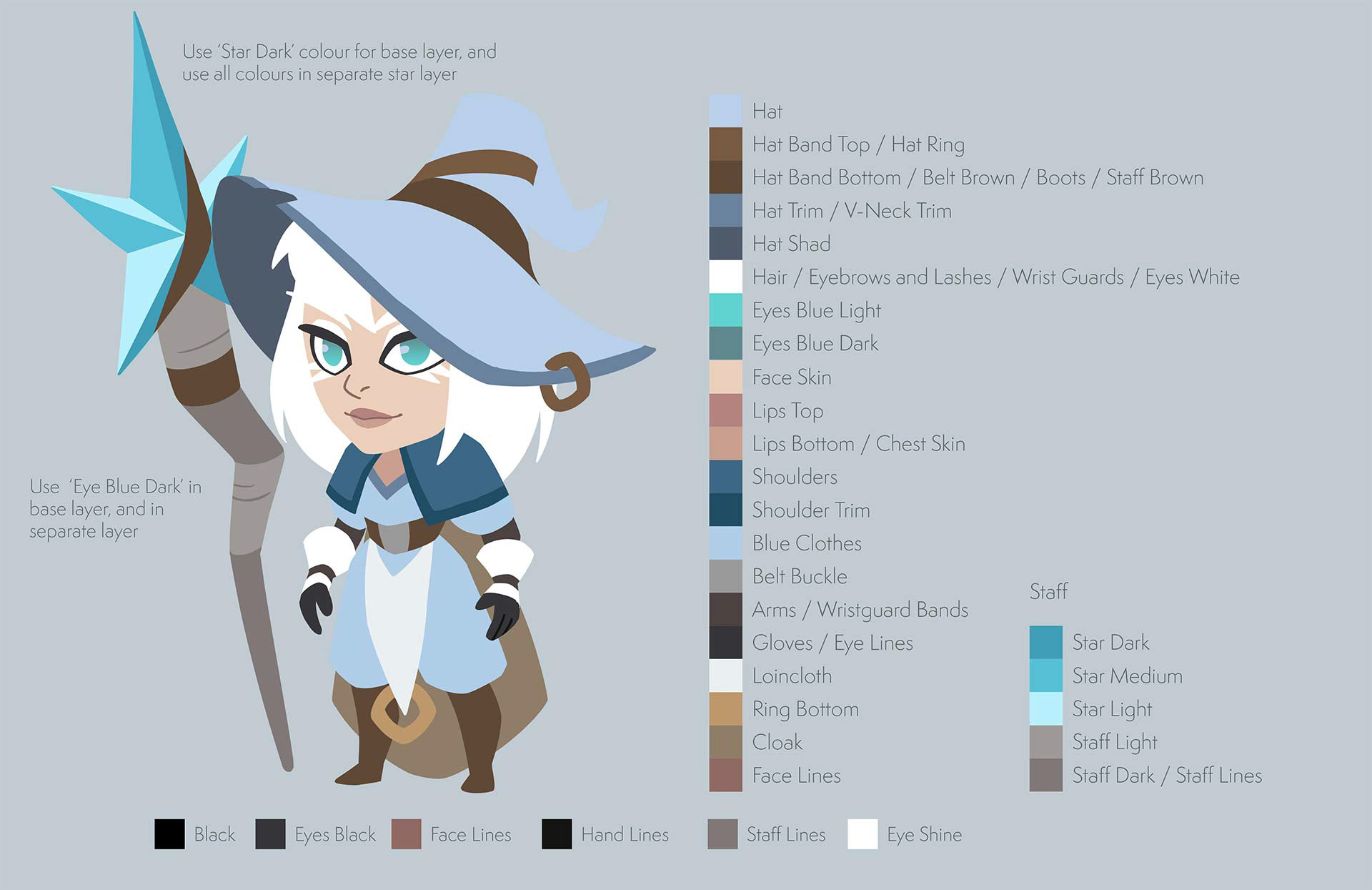 Storyboards & Animatic
With the character alterations approved, I roughed out storyboards and cut together a rough 'animatic' to decide on shot angles, pacing, and editing of the final trailer.

Background Art
I subcontracted the talented
Nevena Nikolcheva
to bring the castle backgrounds to life.
She mocked up the backgrounds using the 3D Software Blender, which allowed me to set up virtual cameras in the environments. Taking screenshots of these angles, she then painted the final art pieces used in the trailer.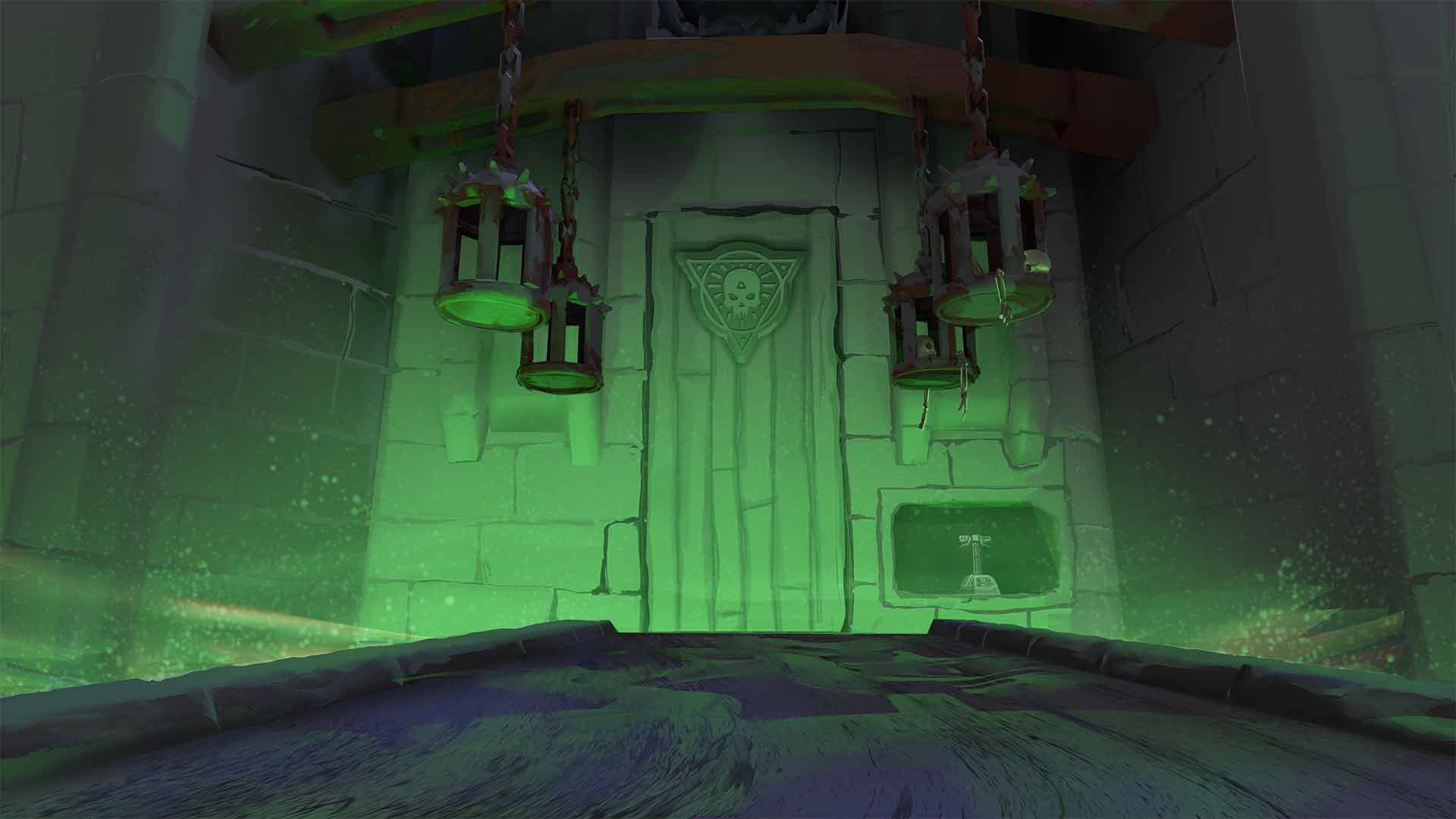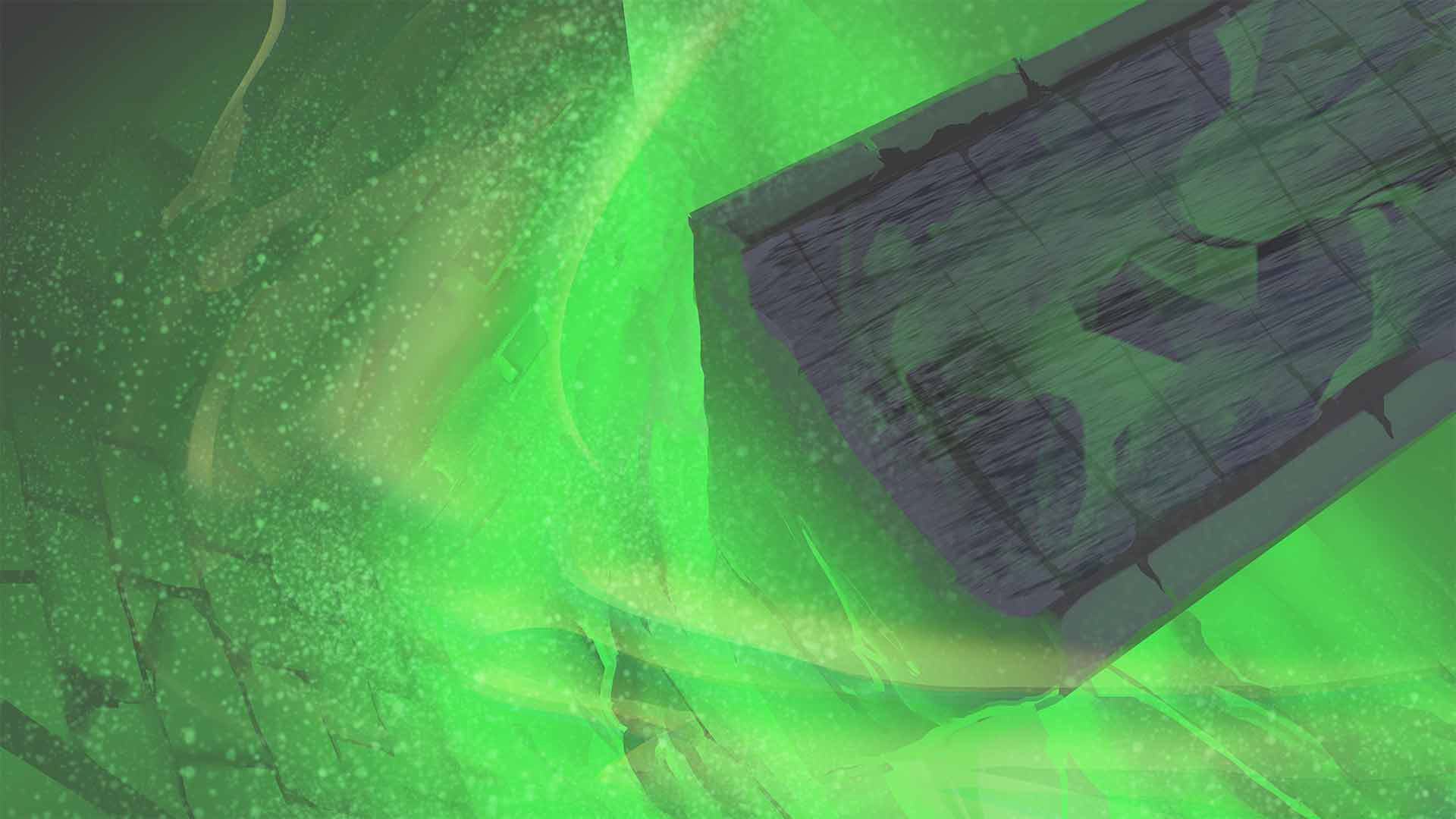 Animation & Compositing
I worked with animator 
Frans Schendelaar
 for the majority of the shots in the trailer. Each shot required several passes, from the very rough first pass to get across the action, to the final composite, which often required complex camera moves and lighting effects.
Music and Audio Effects
Oliver and I sourced royalty free music that suited the tone of the trailer, and I worked with 
Ivey Audio
to add sound effects and vocalisations for the characters, along with the final audio mix. With that, the trailer was complete!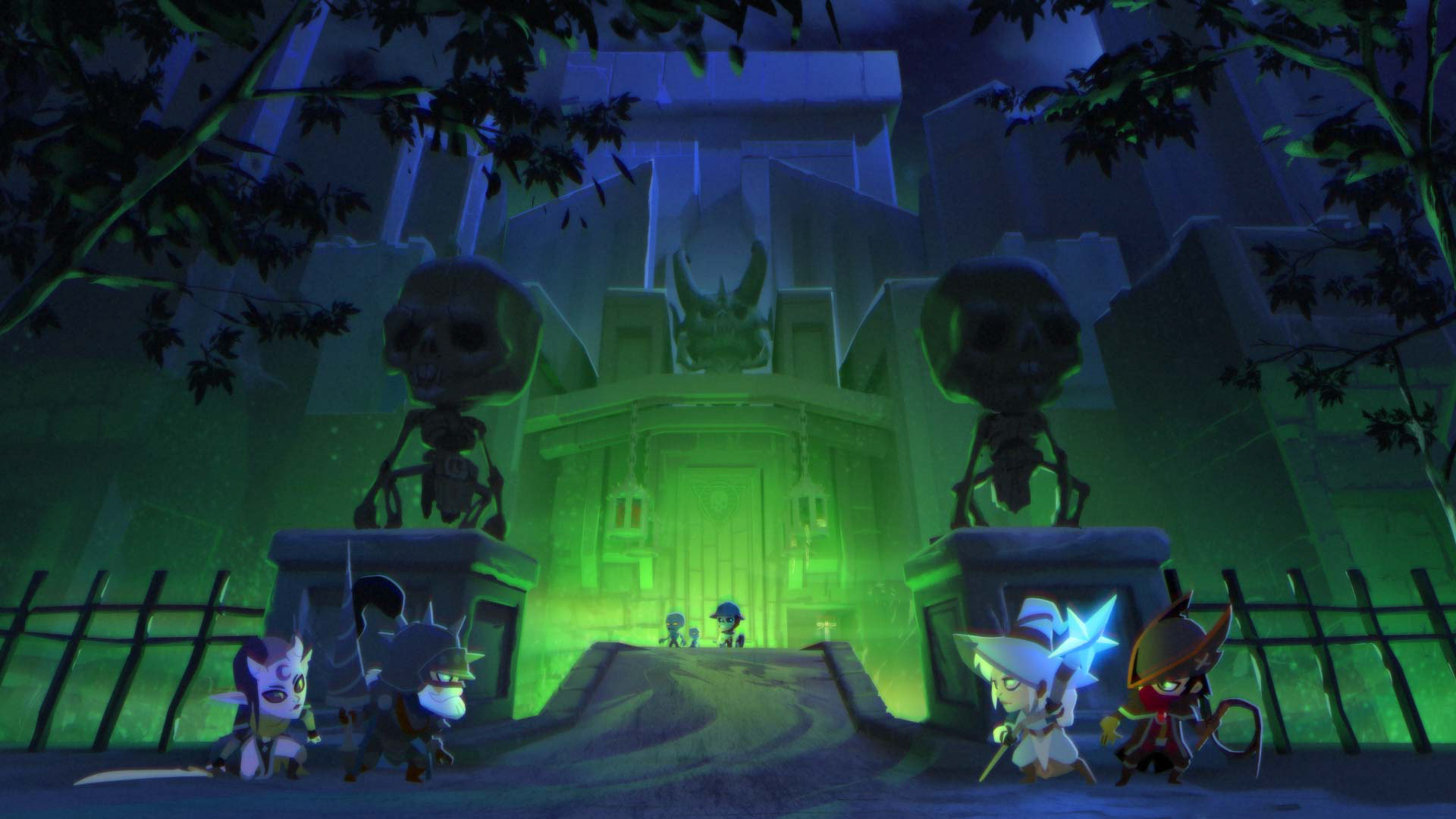 Want Something Like This?
If you're after a music video, promotional piece, or shareable loop, don't hesitate to
get in touch
for more examples or a quote.